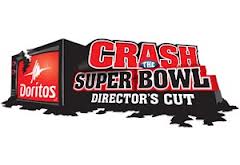 I've been asked by several actors about the SAG membership that comes along with winning the Crash the Super Bowl contest, so I wanted to take a few minutes to explain what that means.
Disclaimer:  Now before you take what I say as gospel truth, please know that I have never produced a SAG project.  I've only done non-union up to this date (but do have plans to produce SAG projects down the road), so please do your own homework if you absolutely have to know the exact details of how this contest and SAG work.  I've done some research, but I'm not going to claim to be an authority on this subject.
First off, here's what Doritos says in their official rules:
Each person whose image, likeness and/or voice appears in a Finalist video must agree that he/she will execute a contract with Sponsor ("Option Contract"), in which Sponsor has the sole option to elect to use the Finalist videos for marketing purposes and under the terms of such agreement, if elected, Finalist shall be bound by the standard terms of the Screen Actors Guild Commercials Contract, will accept minimum scale compensation and talent residuals and will be bound by the terms and conditions of such contract, including exclusivity.
What this means is that if our commercial is chosen as one of the Finalists and if it is aired, all actors, including extras, must sign an agreement with Doritos, which will require you as a principal or extra to sign a SAG Commercial Contract.
This means SAG membership for principal roles, which include getting paid scale (on top of what Sandra will be paying you if we become a Finalist), and residuals.  If Doritos requires exclusivity, it would also mean you get paid holding fees.  For more information on holding fees please see the SAG-AFTRA Commercial Contract FAQ page.
For extras, this could count as one voucher toward getting your SAG membership.  You need three vouchers to join SAG.  In addition, you would, also, get paid SAG rates for background work (in addition to the amount Sandra will be paying you if we become a Finalist).
If you're an actor looking to join SAG, this could be the opportunity that pays off for you…not to mention that being seen during the Super Bowl would give you incredible exposure.  Of course, there is a catch:  We have to win!