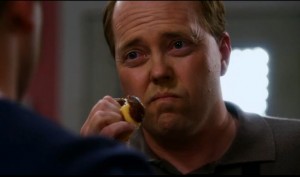 Heads up, everyone!  Mike McCafferty will be starring in the upcoming Hallmark Channel movie Operation Cupcake!  It premieres this coming Saturday at 8:00 p.m. Pacific Time.
We all know that Mike has a heart of gold, but here he'll get to play the bad guy.
The movie also stars Dean Cain, Kristy Swanson, and Donna Pescow.
If you miss it, don't fret.  Operation Cupcake will have an encore at 10:00 p.m. as well as a few other times.  Just check the new event calendar right here on Shoom Zone for the times; and don't forget to factor in your own time zone because I'm on Pacific Time here in California.
Be sure to check out the preview video on the Operation Cupcake website page to catch a sneak peak of Mike in action.  This looks like it's going to be a fun movie!